On this page I provide reviews of various products that might be of interest to anyone looking for computers for seniors or other software solutions geared towards seniors and other non computer literate people.
First, I want to make a disclaimer so as to be perfectly transparent.  I do not own any of the products reviewed here.  I did, however, research many websites, including manufacturer and marketer websites, as well as various customer and professional reviews.
If you have any information, comments or opinions, please leave a comment at the bottom of the page.
Product Review – Telikin

(Reviewed 6/9/2015)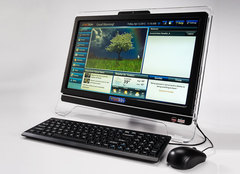 Manufactured by Venture 3 Systems in Hatfield, Pennsylvania and MSI in Taiwan.
General.  The Telikin family of computers are all-in-one computers.  They all have touch screens and come pre-loaded with applications so they are truly ready out of the box.  One thing to be aware of is that the applications included are the only ones that can be used.  There is no way to install anything else or make any configuration changes.  This can be either a positive or a negative.
It's good that the novice user can't accidently mess up the software or any of the programs, but at the same time it limits the more computer savvy folks.  It all depends on what's more important to you.  It should be noted, though, that the whole point of this computer is for those novices that don't need or want the extra bells and whistles.
Wireless.  All three models have wireless WiFi capability, but the keyboard and mouse are both wired.  Mouse?  Why would you need a mouse with a touch screen?  In my opinion you don't.  I guess it's included for those people that are used to a mouse and want to keep using one, although it wouldn't make much sense spending the extra money for a touch screen then.  No matter.  I digress.  I feel it would be a better option to have the keyboard wireless, but that's not the case.  I minor thing, I admit.
Support.  Telikin offers great support according to most of the customer reviews I've found.  They specialize in helping seniors (and anyone that is not tech or computer savvy) so they are patient and don't use technical jargon.  You get one month of their VIP Support for free.  After that it's $10/month, which includes not only tech support but online backups.
Other Reviews.  There have been a couple of consumer reviews that claim the Telikin is using old technology and is over priced.  In my opinion, the higher price may be justified by the time and effort that went into making this one of the easiest computers to use and secure from both outside threats (viruses and hackers) and from unintentional mistakes by the users themselves.
For a full professional review of the Telikin from ConsumerReports.org, click here:  Consumer Reports Review
Specifications/Models.  There are three models available.  Some of the technical specifications are presented for those interested.
Processor – Intel 847 Celeron D
Memory – DDR3 SDRAM (amount unknown, probably 2 GB)
Hard Drive – 500GB
Monitor – 22 inch touch screen
Operating System – Telikin OS (customized Tiny Core Linux)
Wireless – 802.11 b/g/n
Purchase from Amazon:Telikin Elite II.  22 inch touch screen desktop.  Price at time of review – $1,079

Telikin Breeze.  18.6 inch touch screen desktop.  Price at time of review – $699

Processor – Intel Dual Core Atom Processor, 1.8GHz
Memory – 2GB SDRAM RAM
Hard Drive – 16GB SSD
Monitor – 18.6 inch touch screen
Operating System – Telikin OS (customized Tiny Core Linux)
Wireless – 802.11 b/g/n
Purchase from Telikin:

Telikin Freedom.  15.6 inch touch screen laptop.  Price at time of review – $799

Processor – Intel dual core 1.8GHz processor
Memory – 4GB SDRAM
Hard Drive – 500GB
Monitor – 15.6 inch touch screen
Operating System – Telikin OS (customized Tiny Core Linux)
Wireless – 802.11 b/g/n
Purchase from Telikin:

Product Review – WOW Computer

This is actually the Telikin Elite II computer (reviewed above) re-branded under "WOW Computer" and marketed by a company called firstSTREET.  The specifications are identical.

Product Review – A Plus Senior Computer

(Reviewed 8/23/2015)

Marketed by Computer Tutor Plus, Inc. in Hollywood, Florida.

General.  All of the A Plus Senior Computers run Windows 8.1 with an overlay (or "shell") called Windows Classic Pro, which gives them the look and feel of Windows 7, which many people find easier to use than Windows 8.1.  What makes them different from the Telikin is that they are not "closed" systems.  That means additional hardware devices and additional software programs can be added to them.

However, this doesn't mean the user is now at risk of mistakenly messing things up.  A Plus Computer executive Dale Dion makes this statement: "There are only 3 icons: for games, email and Google.  We turn off all messages so there are no pop-ups or questions for them to answer.  We make over 40 "adjustments" to the computer so that it's extremely easy for seniors to use.  It is a fully functioning computer so as they progress, there are no limits on what they can do on the computer.  Our initial setup is with just 3 icons, Solitaire so if they are new to a computer they can get comfortable with the mouse, simple email (via Gmail), and an icon to go directly to Google.  We include a 47 page illustrated manual that has a 10 step lesson plan so they can, one step at a time, become comfortable with the computer.  Lesson one is turning the computer on and off just to give you an example of how basic we get.  Finally we offer our own phone/remote connection service so if they have an issue or just a question on how to do something we can easily connect with their computer and help them."

Service/Support.  To begin with, A Plus Computers offer a 30 day money back guarantee with free shipping.  All of the computers come with a one year hardware warranty included in the purchase price.  A service plan is also available for $19.95 per month if purchased within 30 days of the computer purchase.  It provides unlimited phone, remote and email support along with a lifetime warranty.  Included with the basic system are maintenance free anti-virus, anti-malware and state-of-the-art firewall encryption that never expires.

Specifications/Models.  There are a variety of models available, depending on whether you want a touchscreen or not and whether you want a desktop or a laptop.

Touch Screen Desktops

Model 9300.  23 inch touch screen desktop.  Price at time of review $1199

Processor – Intel Pentium, 3.4GHz
Memory – 4GB expandable to 8GB
Hard Drive – 1TB
Monitor – 23 inch touch screen
Wireless (WiFi) – Yes
Ports – Ethernet
Other – Webcam, Mic, Memory Card Reader, CD/DVD Reader/Writer

Model 9200.  20 inch touch screen desktop.  Price at time of review $1049

Processor – Intel Pentium 2.66GHz
Memory – 4GB expandable to 8GB
Hard Drive – 500GB
Monitor – 20 inch touch screen
Wireless (WiFi) – Yes
Ports – Ethernet
Other – Webcam, Mic, Memory Card Reader, CD/DVD Reader/Writer

Touch Screen Laptops


Model 7300.  17.3 inch touch screen laptop.  Price at time of review $1199

Processor – AMD Quad-Core A4, 1.9GHz
Memory – 4GB expandable to 8GB
Hard Drive – 500GB
Monitor – 17.3 inch HD LED
Wireless (WiFi) – Yes
Ports – Ethernet, HDMI, 3 USB
Other – Webcam, Mic, Memory Card Reader, CD/DVD Reader/Writer

Model 5100.  15.6 inch touch screen laptop.  Price at time of review $699

Processor – Intel Pentium, 2.4GHz
Memory – 4GB expandable to 8GB
Hard Drive – 500GB
Monitor – 15.6 inch HD LED
Wireless (WiFi) – Yes
Ports – Ethernet, HDMI, 3 USB
Other – Webcam, Mic, Memory Card Reader, CD/DVD Reader/Writer

Non-Touch Screen Desktops

Model 8300.  23 inch all-in-one desktop.  Price at time of review $949

Processor – AMD E2-1800 Accelerated Processor, 1.75GHz
Memory – 4GB expandable to 8GB
Hard Drive – 500GB
Monitor – 23 inch HD wide screen
Wireless (WiFi) – Yes
Ports – Ethernet
Other – Webcam, Mic, Memory Card Reader, CD/DVD Reader/Writer

Model 8200.  20 inch all-in-one desktop.  Price at time of review $849

Processor – AMD (model unknown), 2.6GHz
Memory – 4GB
Hard Drive – 500GB
Monitor – 20 inch screen
Wireless (WiFi) – Yes
Ports – Ethernet
Other – Webcam, Mic, Memory Card Reader, CD/DVD Reader/Writer

Non-Touch Screen Laptops

Model 7100.  17.3 inch laptop.  Price at time of review $899

Processor – AMD Turbo, 1.9GHz
Memory – 4GB expandable to 8GB
Hard Drive – 500GB
Monitor – 17.3 inch HD LED
Wireless (WiFi) – Yes
Ports – Ethernet, HDMI, 3 USB
Other – Webcam, Mic, Memory Card Reader, CD/DVD Reader/Writer

Model 3100.  15.6 inch laptop.  Price at time of review $549

Processor – Intel (model unknown), 2.58GHz
Memory – 4GB expandable to 8GB
Hard Drive – 500GB
Monitor – 15.6 inch HD LED
Wireless (WiFi) – Yes
Ports – Ethernet, HDMI, 3 USB
Other – Webcam, Mic, Memory Card Reader, CD/DVD Reader/Writer